Architectural Ideals
April 19, 2021
A repository of our ideals…
In some shape or form, the influence of architecture has seemingly infused into your life.
In our psyche lies the Empire State Building in NYC, the Eiffel Tower, and Big Ben. Whether visiting or simply just reading about impressive structures around the world on the internet, architecture plays a significant role on who we claim to be. 
The sense of awe when you walk into Antonio Gaudi's La Sagrada Familia in Barcelona or the Duomo in Florence, Italy reflects our sense of context and perspective within these luminous and esoteric spaces.
Architecture gives us the opportunity to visually and conceptually understand different periods of existence and into the mysterious minds of their creators.
While some structures reflect the past or future, architecture is a roadmap of identity whether physical, cultural, and/or spiritual. 
For some the greatness in architecture lies in the complexity and detail, for others it resides in its simplicity, order, and precision.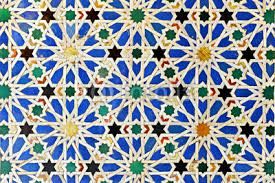 Symbolic aspects of sacred geometry in religious structures tell a story of faith and dogma to which practitioners will find themselves elevated to a higher level of religious and spiritual connection.
These sanctuaries serve as guardians of identity. While some can be greater-than-life in their ornate grandeur, others can be an extraction of all-that-is in its bare space.
Whether deeper meanings are inscribed in archaic texts and/or mystical frescoes on the walls with secret codes built in the architecture itself, ancient churches, temples, and structures in their entirety represent a living entity of its proper doctrine. 
Yet the nature of architecture is organically mirrored in our humanity.
At the root of architecture is the notion that we are different people in different spaces..a repository of our own ideals. Are we the same person at home as we are in the pyramids of Egypt or the Burj Al Arab in Dubai?
So then a question arises. Does our identity cling to the concept and construct of another's ideal? Or are these structures windows into a landscape of possibility that carries intentionality to design who we want to be and become it?
A provoking question especially when we are both the creators and the audience of the creations.
Our homes serve as our physical refuge from the outside world, a refuge from everything that we are vulnerable to. Our homes are also our psychological sanctuary that reflects our identity and our state of mind. 
As our evolution shifted into the modern age, the architecture of our homes, buildings, and new landmarks corresponded accordingly.
One only has to think of Zaha Hadid's Heydar Aliyev Center, in Baku, Azerbaijan to understand the focus and intentionality of breaking free from constraints of past tradition and history and instead of setting our sights on designing a drastically different future.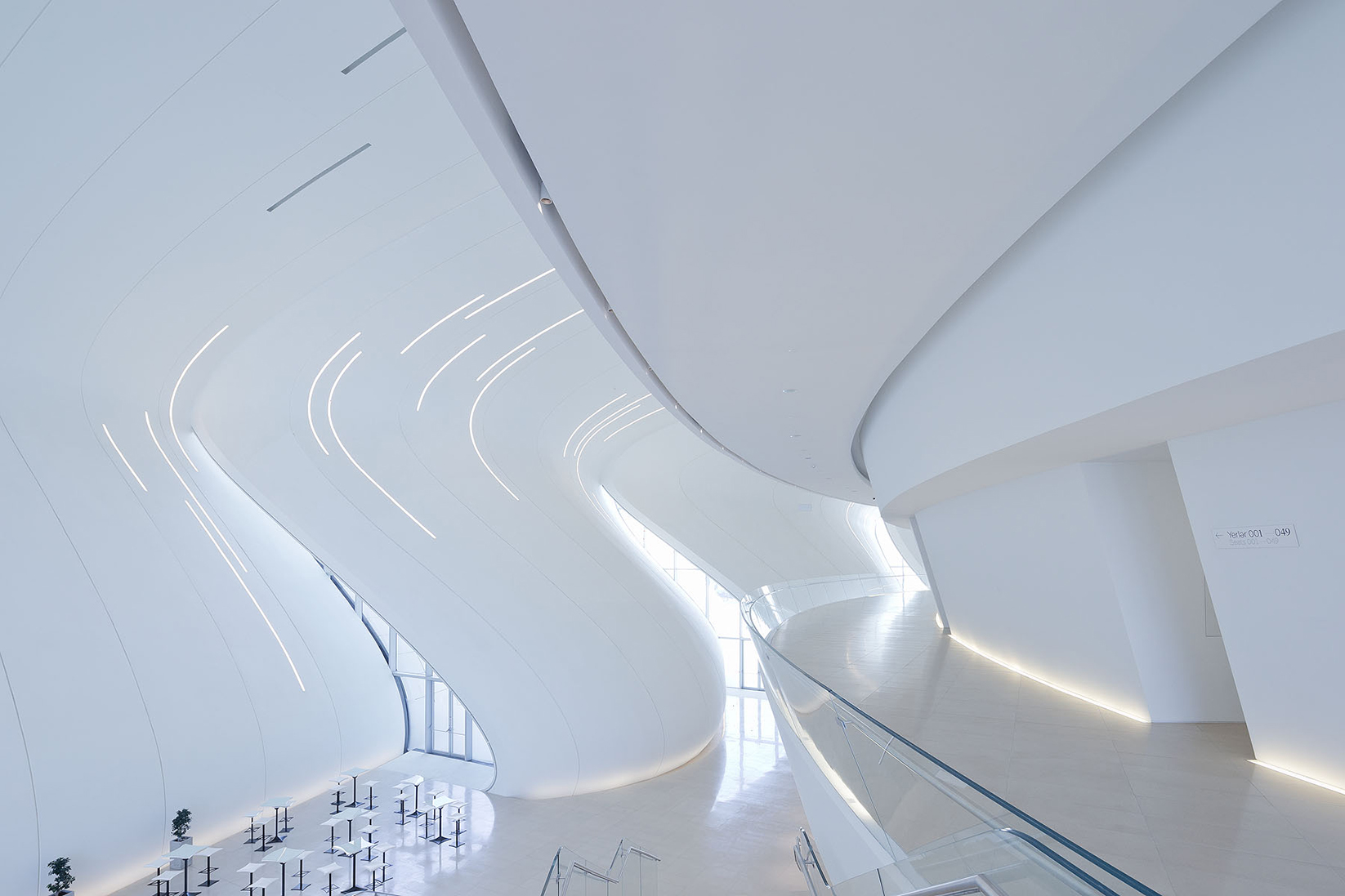 The modernist movement whose creative focus on living by design presented us with radical expressions of science and technology that presented a new roadmap to contemporary existence at its core.
Encapsulating this new architectural language in modern living was Charles-Édouard Jeanneret (1887-1965), known as Le Corbusier, whose Villa Savoye avant-garde style and highly criticized novel aesthetic paved the way to a new climate of reinforced concrete pillars, flat roofs, open-plan living, and horizontal windows we see in today's most influential homes. 
Neither limited by shape or form, the modernist movement somehow embraced the unusual and unexpected as elegant fashion.
An example of untethered architecture comes for the highly celebrated Palais Bulles or more commonly known as the Pierre Cardin House located in Theoule-sur-mer An unexpected design of optical curves and perspectives represents more harmonious living according to the the architect Antti Lovag.
Actually, Lovag considers spherical design more in alignment to our human nature because as she explains, "Straight lines" is an aggression to human nature as the circular range of motion produced by our bodies as well as our social behavior, social circles and cycles of life.  Lovag's philosophy similar to that of Antonio Gaudi who believed that straight lines do not exist in nature.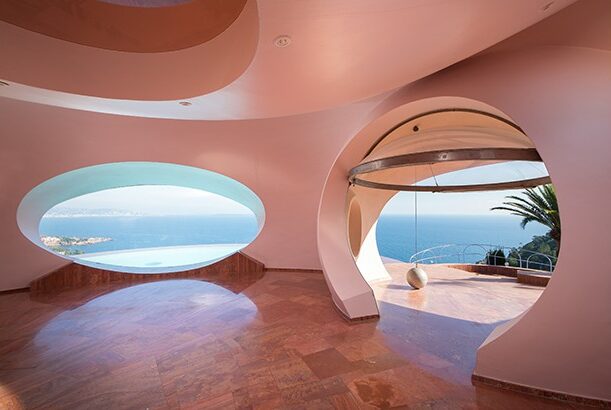 Also embracing curve lines is the Crescent house in Wiltshire designed by Make Architects.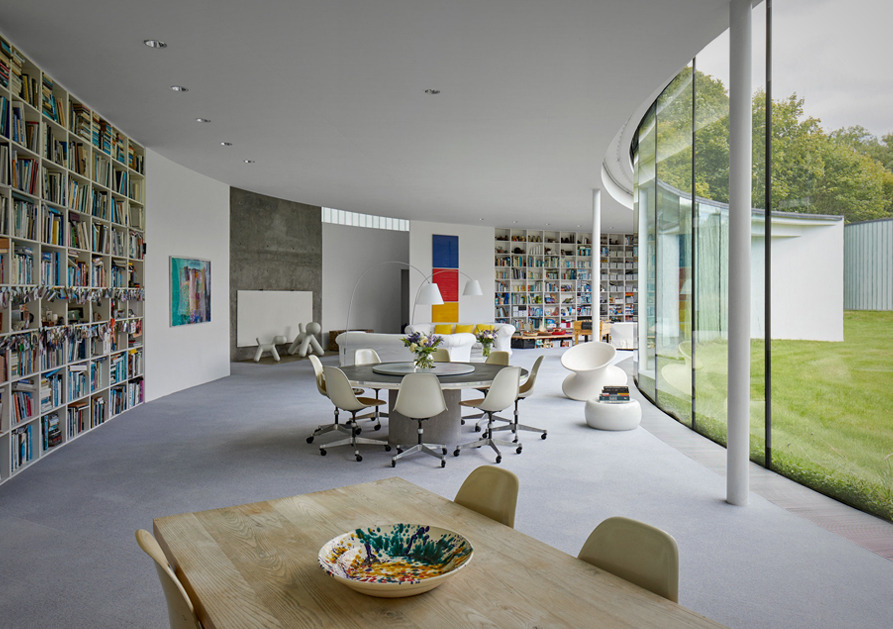 Here the home is made up of an inner crescent and outer crescent. The inner crescent has concave floor to ceilings windows that allow the home social area to connect completely with its outdoor garden surroundings. The bedrooms are in the outer crescent with a shielding solid wall protecting it from the adjacent road.
Architecture is an element of living that influences how we feel and perceive our external world. It is an understated influence that we often take for granted.
By spending time appreciating differing types of architecture that inspire different kinds of thoughts and concepts, we realign ourselves to the present moment in time in our humanity.
From that mindful perspective we can naturally ask ourselves, Where do we want to go next?
And who will that require us to become?