Journeys in Time
December 21, 2021
A personal message from Mark Howorth
As we find ourselves amidst the holiday season, I find myself thinking about the significance of time, particularly our journeys in time. 
The holidays mark an intentional moment to celebrate a year of life, and it certainly comes with all what may!  We celebrate personal and professional successes, cherished milestones, new dreams and discoveries, and the musings of forgotten memories, welcoming a new life or the passing of a loved one.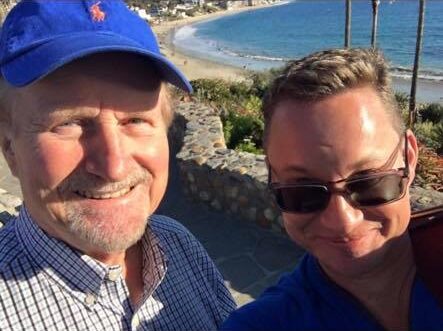 Such is the case for myself as it's been almost 2 years since my fathers passing, yet it still seems like yesterday we were together in the south of France enjoying the cafes and driving along the beautiful coast of the Cote d'Azur.  
A place that was so dear to my fathers heart and where I spent my childhood summers going to all the provincial beaches with my family and sailing on the beautiful Mediterranean.
These memories warm my heart.
Life's dual nature of beauty and chaos tugs on my emotional heart strings as such memories simply makes me miss my loving father even more. Yet I am comforted by the thought that I always carry his presence in my heart. 
Our hearts, the space within us where all our stories are deeply felt. 
We seek the stories whose framework will inherently hold the context we seek to describe. The story within us that is wanting to emerge and reveal itself as we live each moment in the unfolding of our journey in time with each other.
By sharing this vulnerable aspect of ourselves, we connect on a deeper level of compassion and kindness. 
We relish in our funny stories, embarrassing moments that make us laugh until our bellies hurt, as well as find comfort in the moments that call upon our emotional reserves of resilience and courage when we most need a shoulder to cry on. 
But isn't this what life is all about?
Bearing witness to each other and all our experiences in our journey of sorting it all out. Making sense of it all, especially during these trying times with the pandemic which has sparked the flame of vulnerability in all of us. 
The people in our lives give us profound meaning and inspiration to be and discover who we really are.
They are gifts of grace.
I would like to extend my complete gratitude and thanks to the entire team at Callender Howorth, along with our suppliers and business partners for all their work that allows us to deliver excellence in interior design to our clients.
And to all our clients, thank you for your trust and loyalty, we are sincerely honoured to be a part of your journey.
It is with my deepest heartfelt intention, that I wish for all of you this holiday season, to reach out with one another, and let it be a moment in time filled with appreciation and blessings for these are the journeys in time that we share together.
Main image: Callender Howorth project Chalet Solaise in Switzerland. Photo by Andrew Borthwick