Maison & Objet 2017: A Hub for Design Innovation
February 1, 2017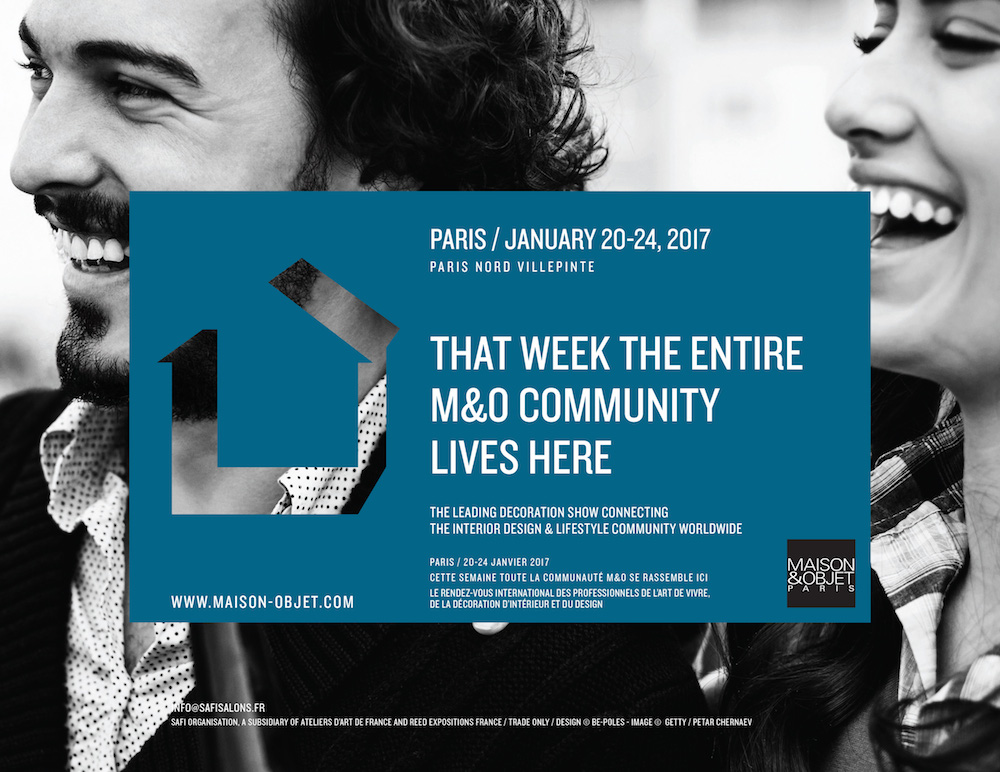 The prestigious Maison & Objet Paris trade show took place from January 20th until January 24th, 2017. The show is one of the most hotly anticipated events on the interior design calendar, renowned for its carefully curated selection of great design. The bi-annual show is one of the most important events for interior design in Europe and showcases innovative decoration, furniture, accessories, textiles and fragrances, all displayed in imaginative ways. Many interior designers from the UK seek inspiration at the Maison & Objet Paris. The January event often sets the tone for the design year ahead, so we picked some highlights.
The five-day international homeware trade fair filled eight huge halls on the edge of Paris. British design is the largest design sector in Europe and that was apparent at Maison & Objet Paris, which was overrun with British talent. The UK does patterns extremely well and Royal College of Art graduate Kit Miles was a great representative of this aesthetic as his textile display was filled with his intricate artistry, which contrasts lavish designs with the utmost attention to detail.
Fine artist Helen Wilson paints her dark designs in oils and reworks the still-wet surface until it's right for her dramatic wallpapers. Lancashire designers Wallace Sewell is celebrating 25 years in the industry and the team's colourful woven fabrics wowed visitors. Their collection of throws, scarves and cushions are inspired by the colours and textures of countrysides and cityscapes.
International designers were also well-represented and Shanghai-based furniture brand Maison Dada had a wonderful display of Little Eliah pending lamps. The colourful and fun lamp re-imagines traditional lighting into a whimsical suspended form, which frees owners from finding surface space to place it. Portuguese furniture designers Boca do Lobo displayed traditional handmade techniques that blend together contemporary design and Portuguese tradition. The variety of textures, which this year took on a particularly sparkling and reflective sheen, added a touch of glamour and elegance to the exhibition.
Boca do Lobo at Maison et Object. Video credit: Boca do Lobo
This year, there was an outstanding mix of technology, art, craft and design, which re-purposed and merged materials and objects in extremely inventive ways. Marcin Rusak, originally from Poland, dries sacks of flowers and sets them into an inky resin which is sliced for table tops, screens and lamps. Another fantastic combination of traditional craft and contemporary design comes straight from the East. Yoshihiko Fuji is an expert craftsman who used a 400-year-old lacquering process specific to the Wakayama district in Japan to create a collection of western tableware. He made a unique tray by encapsulating thin gold and silver leaves under several layers of flake rich lacquer to create a variation of the colour depending on the angle of observation.
Covet House is a project that gathers the best European Design Brands in a magazine. From contemporary lighting companies to luxury furniture, Covet Lounge provided an inspiring and luxurious place to relax and have a drink during the event. The brands associated with this wonderful project are: BRABBU, Boca do lobo, KOKET, DelightFull, Maison Valentina, Essential Home, Luxxu and Circu.
Video credit: Covet House
People who enjoy nature can bring it indoors stylishly with D&M, a Belgian company who create plant pots. The designer's amazing vertical plant pots are a revelation in minimalist white, and clean symmetrical edges. They're not just pretty to look at, but the large version is more technically engineered to ensure correct watering and the waterproof porcelain means that the pretty pots are just as at home outside as they are inside.
If the displays at Maison & Object Paris have inspired you to redesign your home, don't hesitate to contact us to help make your dream a reality.