Reflecting on Salone del Mobile 2016 in Milan
May 6, 2016
The biggest names in furniture design descended upon Milan for the 54th Salone Internazionale del Mobile. The annual Milan Furniture Fair showcases the latest innovations in international furniture and design from the very best luxury interior designers. The event took place on 12th-17th April 2016 and encompassed everything from lighting to specialist home furnishings. This year, Salone del Mobile celebrated the biennial Eurocucina exhibition with 120 international brands who displayed their quality kitchen products spread out over 23,000 square metres. It also dedicated time to emerging talent under the age of 35-years-old who exhibited their work at the 19th edition of Satellite, a popular secondary exhibit.
[huge_it_slider id="1″]
The week-long event is really the place to be for interior architects and design enthusiasts. From offsite events and installations to product presentations and launches, Salone del Mobile does not disappoint. We've selected a few of our favorite pieces that were exhibited at the 2016 trade fair.
1.The Shoe Tree – Beatrix Ong and Samuel Chan
Wallpaper* magazine's 'Handmade' exhibition is always one of the fair's highlights. This year, British shoe designer Beatrix Ong MBE and Samuel Chan, founder of the artisan collective Joined and Jointed, collaborated to bring the 'Shoe Tree' to Milan. It's a moveable and flexible tower of American black walnut shoeboxes which tackles the problem of shoe storage in an aesthetically pleasing way. The Shoe Tree comprise 15 shoe boxes that rise upwards with each box containing a small window so you can glimpse the shoes inside. Samuel Chan commented that "Boxes are intriguing; they hold surprises and invite discovery. They are also useful…Beatrix wanted to express this combination of intrigue and utility."
2. "Reality or Illusion?" – Foscarini
Lighting brand Foscarini are always innovative and stylish and this year they brought more food for thought to the Salone del Mobile. Enlisting designer/architect Ferruccio Laviani to experiment with size and scale in a graphic world, the team created colourful illusions aided by oversized Foscarini lamps. It was a real 'Alice in Wonderland' experience.
3. The Butler – David Chipperfield
Another interesting design from the Wallpaper* Handmade section was David Chipperfield Architects contribution to this year's theme of 'Travel'. It was designed to deal with the reality of unpacking in hotels. David Chipperfield described his inspiration: "Most hotels have badly designed wardrobes and cupboards. They are not well organised and unpacking your suitcase is not enjoyable. The idea of Butler was to design a 'dressing table' that makes unpacking in a hotel room a joy." His team collaborated with furniture-makers e15 and the American Hardwood Export Council (AHEC) to use American willow in creating the bespoke piece of furniture that makes unpacking enjoyable and convenient.
4. Run Tables – Emeco
In these space-deprived and community-oriented times, people often share the same surfaces for different activities. With this in mind, London studio Industrial Facility created an aluminium and ash table, bench and shelf system for American brand Emeco. The design was based on communal space, and Industrial Facility's co-founder Sam Hecht described his inspiration,  "The way we use tables is changing; we could be having a conversation or a meal and someone could be sat next to us working on their laptop, and we wouldn't feel it's weird." The collection comprises a shelving unit, a table and a bench, which feature plank-like surfaces available in either anodised aluminium or three types of wood.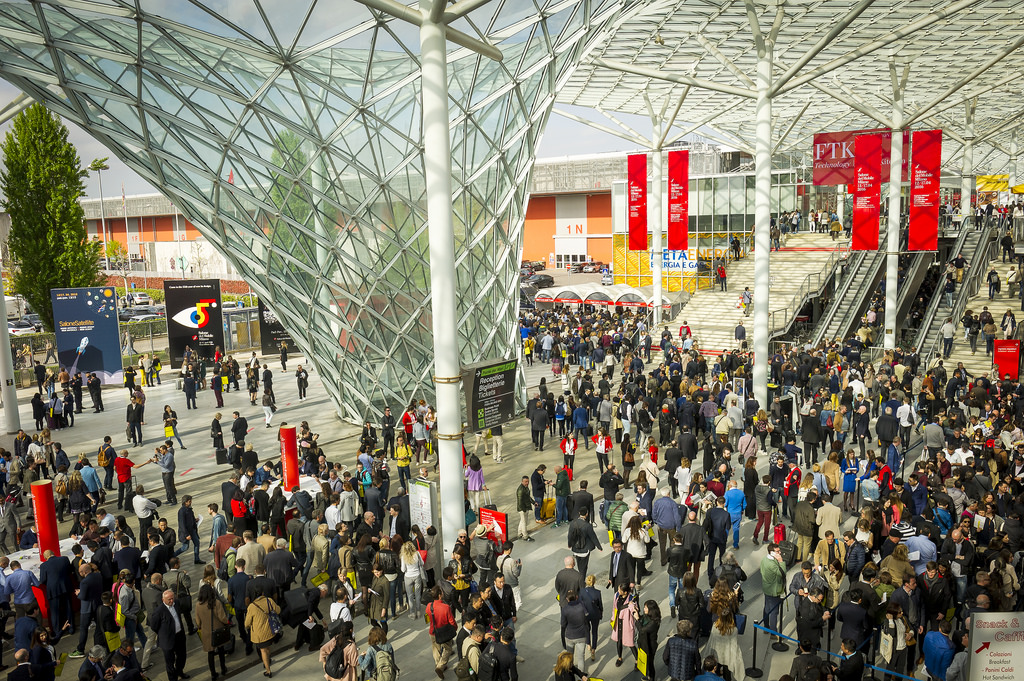 This year's Salone del Mobile was one of the most successful yet and there was plenty of inspiration available to interior architects and designers. Contact Callender Howorth to discuss your interior design requirements.
Images courtesy of Salone Milano.