Spring into style at home
April 1, 2023
Let spring set the stage for a new change.
Spring has arrived and like every year, we find ourselves taking in a welcoming sigh to warmer weather, flowers blooming and the new fresh new energy that blooms in springtime. 
Yet when we look around our home, we can feel the lingering remnants of a long cold winter which are not exactly flowing with our new inspiring breaths of spring. 
Historically and religiously, spring has been attributed to a period of transformation, renewal, and new beginnings. As the buds start to pop with fresh and bright colours, so does the symbolism of starting fresh and starting over. 
This is the ideal time to take stock not only of our inner environment but also our outer environments starting with our home. Hence the idea of spring cleaning pops into our mind and rightfully so…it's time to move things out to make room for life's joys to move in. 
Here are a few ideas to help you welcome in the spring with style in your home for a fresh start!
Start with decluttering
If decluttering seems to be a daunting task, consider it this way. You are clearing out the chaos. 
Lack of storage, the colours in your home that were once bright and are now drab, all the extra stuff that your spouse has filled up the house with, all the things that your kids have trouble with keeping tidy, and the same furnishings you have kept for the last 10 years, as well as your overstuffed closets with items that you haven't worn in years.  These are all things that create a stuck feeling in your home and in your head. 
If you are looking to sell or rent your home, this is the first order of business your agent will tell you.
The dramatic difference wall colour makes
One of the fastest ways to bring new energy into your home is through colour. Look at the colours on your walls.  Are the walls dirty or faded? Remove a piece of furniture from the wall and you will see if it is. 
Colour directly affects our moods. They can affect our emotions and state of mind. They can also directly affect the amount of natural light you have in your home by how much light the colours absorb and reflect the light. 
Before you pick a paint colour, Benjamin Moore has a wonderful app have an app where you can photograph your room and drag your paint colours onto the wall and it populates the colours for you. It's brilliant and a really clever way to see the difference a new wall colour will have in your space. 
Upgrade your walls with new wallpaper and wall coverings. 
If you are inspired to upgrade your walls to another level, then it's worth taking a look at all the beautiful collections of wallpaper available now. Gone are the days of the outdated wallpaper from the 1970s and 80s!
Some of the hand-painted designs and print designs are exceptional as well as innovative with many new textures, selection of materials, natural and even recycled wall coverings to choose from. 
Philip Jeffries Manilla Hemp are handcrafted and use only sustainable materials. 
Lighting, lighting, lighting
One of the pillars of interior design is the lighting.
Capturing the natural light, mood lighting, direct and indirect lighting, all play an integral role of the mood, look and feel of your home.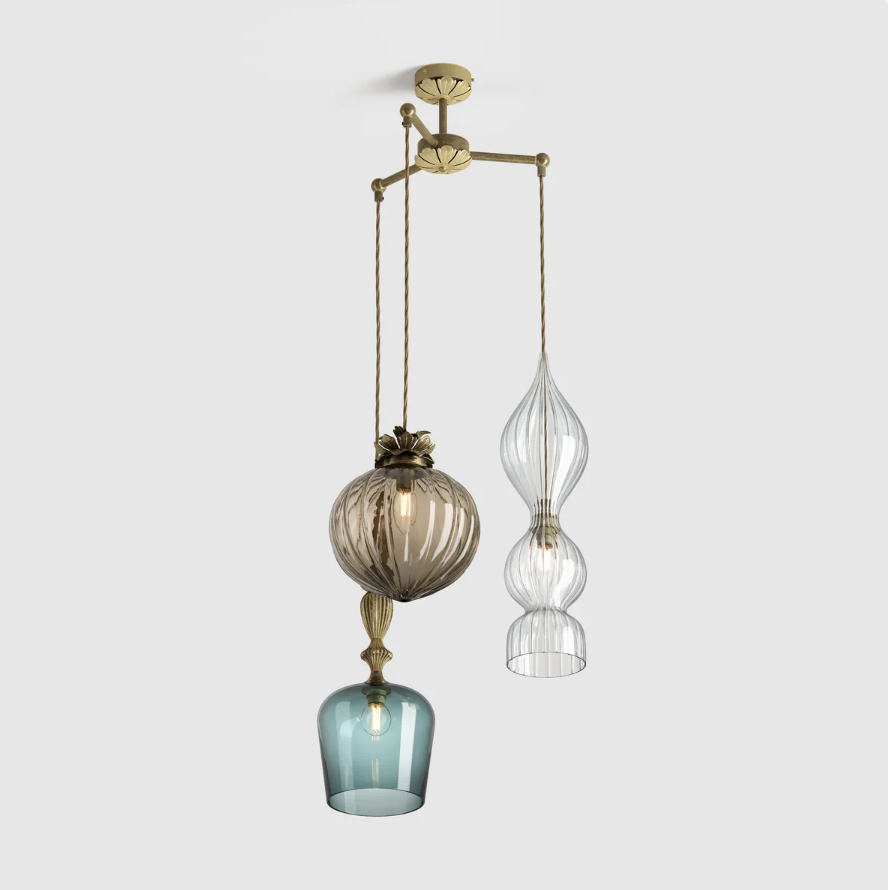 Pendants and chandeliers naturally draw your eye in their luminosity, brilliance and style. They can instantly elevate a room to a  luxurious space taking it from simple to sassy!
Decorative table lamps are wonderful ways to add lighting as well as splashes of colours to the room.
We spend a lot of time for our clients getting the lighting just right because it is the thread that ties everything together.
Customise and revitalise
A great way to renew one of your favourite armchairs, benches, headboards, dining chairs or sofas is by customising your furniture pieces.  Whether it's a new piece or a vintage piece, you can create a style that is unique to you. 
There are so many fabulous fabrics to choose from and you can play with textures and colours to create the perfect accent piece or focal point in your space. 
A couple of our favourites are Italian Dedar Milano and  French fabric supplier Pierre Frey whose fabrics and textiles can turn any furniture piece into a stunning showstopper. By customising your furniture, your signature personality comes through in the ambiance in the room. 
Total transformation….a complete fresh start
If you are looking a complete fresh start, we recommend a total home transformation. It's more than just interior design.  It's a life change.
We spend a considerable about of time getting to know our clients even their children so that the new design truly reflects their needs, lifestyle and desires. Your home should reflect your personality and the way you enjoy living.
After we complete a thorough assessment as well as budget expectations, we sit down with initial concept designs so that our clients can review every aspect of their new home.
If you are looking for a complete change, our team of interior designers and architects are delighted to sit down with you to start the transformation process.
You can email us at info@callenderhoworth.com