Summer Garden on the Cote d'Azur
July 24, 2023
The hot days of summer are sizzling away and we are looking for those cool shady areas to lounge and relax. The feeling of being in a beautiful garden beckons us with its freshness and natural delight.
No matter how big or small, a well-designed garden is an extension of your home where you can just sit back and relax, tend your garden, or entertain.
So who better to share a garden creation story?  None other than Mark Howorth, the creative director of Callender Howorth Interior & Architectural Design.
Mark's personal garden design story.
"Whilst renovating my new home on the Cote D'Azur I had to think about the garden and the land, and how I best wanted to style and design this area. As one lives outside most of the time in the south of France I wanted to create a calm and relaxed space with plenty of seating areas to chill with friends, read books, and simply enjoy the al fresco lifestyle.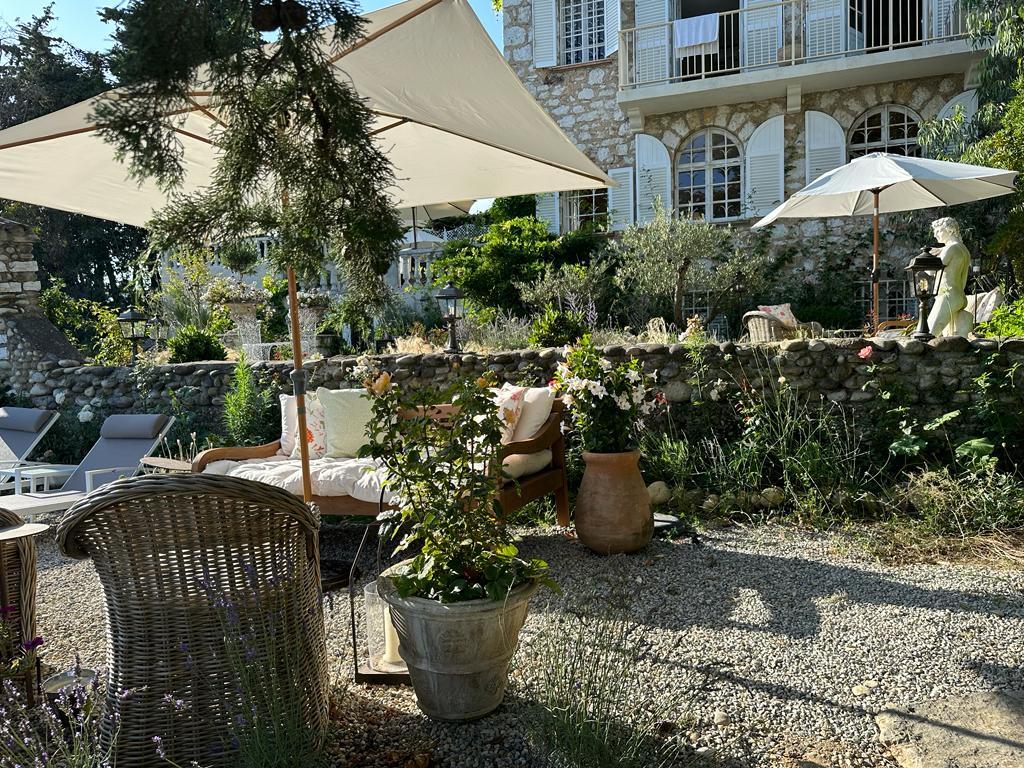 My house was built in 1840 and is a lovely old stone house. I wanted the garden to feel very Provencal and look like it had been in place for years. Lots of native plants and scents as well as a non-structured approach. The garden would be very organic and rambling to create a gentle and eclectic mix of nature.
I sourced old stone to create specific seating areas that one discovers as one walks through the property with little surprises like a fish pond surrounded by pine trees.
On the plants, I wanted to have native plants and ideally plants that were more drought resistant.
I visited the English Garden Center in Opio many times and they were incredibly helpful in showing me many plants that would create my Provencal-type garden, such as lavenders, rosemary, thyme and Mediterranean varieties such as – Eucalyptus Rostrata, Laurus Nobiis bushes, Verbena Bonariensis and Lavandula Dentata.
I used a melange of furniture and styling items to give the garden character and make it not look too much like a catalog of furniture companies! One excellent company was Loberon.fr for sourcing all furnishings for the garden – I particularly liked the candle holders that are dotted around the garden.
Lighting is very important and I wanted the right style of lights to fit with the character of the house. I found these wonderful lanterns from Roger Pradier.
Roses are my absolute favourite and I wanted to plant a significant amount at the house. A great place called Les Rosiers de Mougins has a phenomenal selection of roses that have been cultivated and developed by the same family for over 3 generations.
The varieties are incredible and are developed to work in the heat and give the maximum scent. They remind me of the stunning old roses my grandmother had in her garden for years. They also have been developed to flower 3 times a year – so for me, this was perfect and have planted 40 bushes in the land that give me so much pleasure.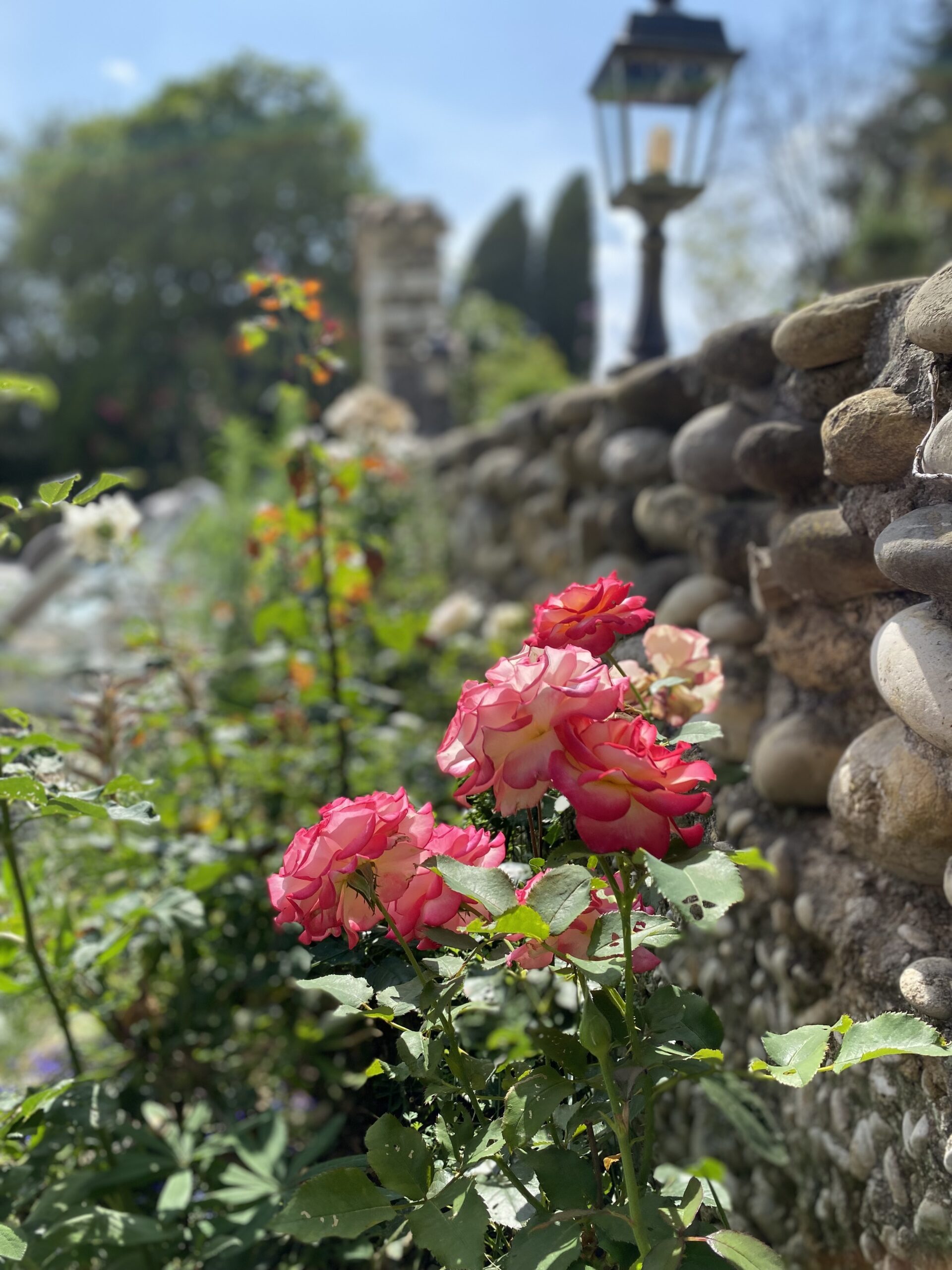 Working on the external design really is the same as interior design but with plants! It's about creating areas to relax and making the space feel inviting and stylish.
Now that all is done and I am in the house – the garden gives me so much pleasure – to walk around early in the morning at 6 am when all is calm and the light is magical – checking the plants and watching the dragonflies hover above the pond, and the swallows gracefully swoop over the house really is pleasure and privilege!"
Here are 5 essential steps to creating your summer garden:
Define the purpose of your garden.
How do you want your garden to serve you? Do you want it as a chic outdoor space to entertain or an idyllic niched haven to unwind with a book or a place to grow your vegetables?
Take a good look at your space. Take note of the size, the natural sun exposure, and any natural features such as existing trees or structures or the vis-a-vis from your neighbour.
Identify the type of maintenance plan for your garden. Do you want a garden with minimal care or a hands-on garden where you are actively participating in its daily care? You want to be keenly aware of your local climate to know which types of plants and flowers are best suited for it.
Allergies?
If you or your family has allergies, you can check with your local greenhouse to see if the types of plants, flowers, and shrubs are allergy friendly.
Furniture and decor.
How do you want to sit or lounge outside? What type of experience do you want to have, relaxing or formal? Lounge style with day beds or more traditional? For larger homes, you might want a big open space with longer sofas and armchairs for entertaining, or smaller niche areas for a specific use, such as a quiet nestled area with a daybed surrounded by flowers and shrubs. Is there a pool? Would you like a lounge or dining area by the pool? Perhaps upgrading to a pool house? Since the pool is a focal point of your garden, be sure to include it in your preliminary brief.
Lighting matters!
The lighting design plan should be considered in this step. Things like solar-powered flood lights or decorative lanterns are a part of the furniture design scheme. Gardens are just as if not more beautiful at night, so the lighting, as with interior design, is a key element.
Professional consultation
The last step in designing your summer garden is taking you preliminary brief and working with an interior/exterior designer and/or a landscaping company to develop the final design. They can give you several design options based on the types of plants you like and the maintenance plan required as well as climate considerations.
Callender Howorth works with the English Garden Company for our projects on the French Riviera. Together with their landscape architects, we design an integral plan that reflects the beauty and personality of your home that connects the interior with the exterior.
By working with a professional design and landscaping company, they will be able to show you a concept design of your garden so that you can be sure it will be your idyllic haven. Remember that your exterior areas are an extension of the interior design of your home. So a proper design takes into consideration all areas of the home.
A summer of enchantment awaits you in your new garden!
For any questions or additional information, the team of designers at Callender Howorth is delighted to help you with your next project. Contact us at info@callenderhoworth.com